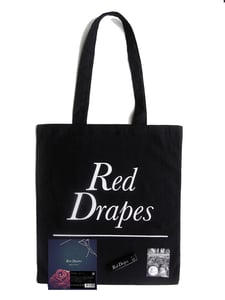 £

15.00
Red Drapes - 'Suffer In Silence' (Japan Import) Merch Bundle
*VERY LIMITED STOCK released 11/09/11*
Merch Bundle includes:
> 'Suffer In Silence' Album (Japan Import)
8 Track Audio CD + Lyric Booklet
Track List:
Suffer In Silence
Second Chances
Reflection
Hush Now The Dockyard
Subside (EU Version)
False Alarm
First Hand
Dirty Windows
> 100% Cotton Screen Printed Tote Bag, Black
> Cigarette Lighter, Black
> Button Badge Set, 2 Set (1 x black, 1 x white)
Japanese imported album and merch bundle set. Released 11/09/11.
Get it while stocks last!