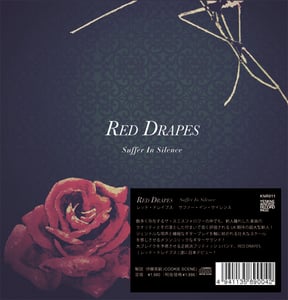 £

10.00
Red Drapes - 'Suffer In Silence' Album (Japan Import)
*Limited released 11/09/11*
We had a limited number of our album imported from Japan.
> 'Suffer In Silence' Album (Japan Import)
8 Track Audio CD + Lyric Booklet
Track List:
Suffer In Silence
Second Chances
Reflection
Hush Now The Dockyard
Subside (EU Version)
False Alarm
First Hand
Dirty Windows
Artwork by Jing Lu - manquedamo.tumblr.com
Japanese imported album. Released 11/09/11.